I own a portable table saw, but often work alone. I needed a table at the same height as the table saw to allow me rip longer boards or to use as the base for my miter saw.
Initial version
I designed a table in Google Sketchup.
I iterated it a few times.
I bought a pile of reclaimed lumber which fit the general size I had designed for the table. Up to this point I hadn't done anything more complex than butt joints. Because I wanted more strength for a work table, and because I thought it would be a better aesthetic choice I made lap joints.
I used a circular saw to make a number of cuts for the joint and chiseled out the waste wood. It was my first one and it took a long time to slowly clean out the wood. After the first one my technique got a lot better and I was able to crank out the table in an afternoon.
I made a heavy and strong table that's been invaluable for working solo. It allows me to support ends of beams that I'm cutting or rip much larger sheets than I could manage alone.
Refined version
The table served as a great workbench for a couple of years. My experience increased, my skills grew. After a few years I saw a lot more potential in the wood than I initially did. I took the entire table apart. I reworked the joints, planed all the wood. As a final step I sanded and surfaced it with marine varnish.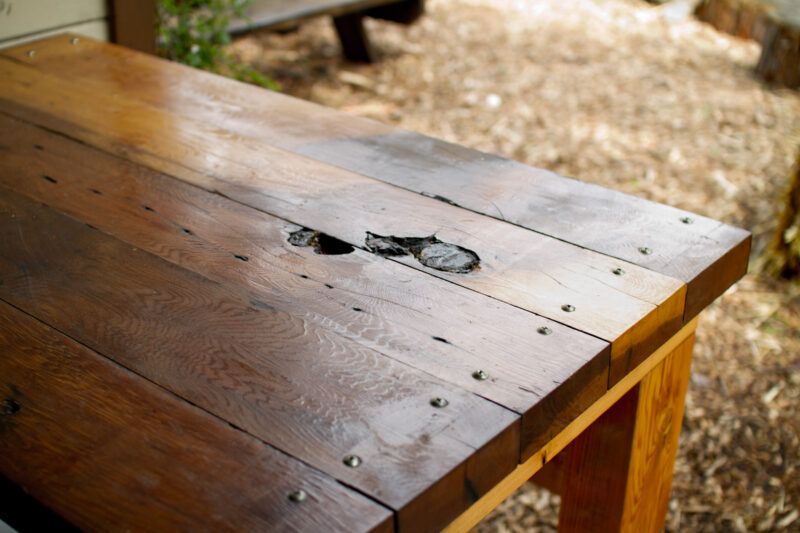 The refined version is nice enough that it could be used as an inside table. I still use it as a work table, but it looks a lot better than it did.